I've been working through a lot of cake therapy lately.  And even though I have been known from time to time to eat my feelings, this does not mean that I am eating cake as a way to work through emotional problems.
My life is generally pleasant and I work very hard to count my many, many blessings. However, when life starts getting me down, my default is to bake a cake.  But as the laundry piles up in small mountains, the bills cry out to be paid, and my kids beg for what's left of my energy, hobbies can seem a bit frivolous to indulge in.
I tried to work in a side job at Bella Cupcake, in the hopes to have some scheduled time to get out my creative baking energy.  Unfortunately, juggling the two positions was challenging and Bella needed a cake decorator who had more availability than I could offer.
So that little dream was shot down.
As I was a little disappointed the position at Bella hadn't worked out, I began to scheme up excuses to bake away those negative feelings.  I suppose I needed to prove to myself that I can still do the thing I love, while keeping my day job.
First, I sought out my friend Simona who has five children (yes, five!  Lord, bless her heart)- surely one of them would have a birthday coming up. And as if the stars had aligned, her son's birthday was just the following week.  So I jumped on board for a monkey/banana themed cake with the added challenge of making it dairy-free
At this point, it had been almost 3 months since I had done a big project.  I swear, I smiled the whole time I worked on this cake, even though I had to squeeze making the entire thing into one day.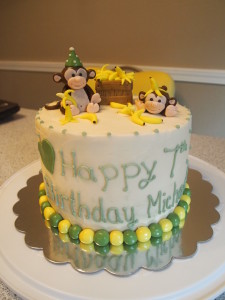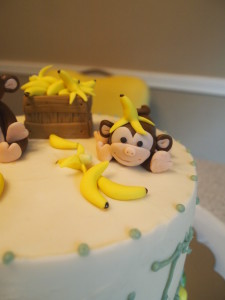 My favorite monkey of the two figurines, getting into mischief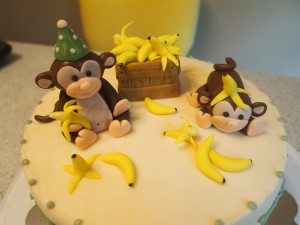 The banana crate is made out of rice crispy treats and covered in gumpaste/fondant
Kids birthday cakes will probably always be my favorite projects, so the monkey cake felt like a good beginning for what would turn into a whirlwind of baking for the next few weeks.
Next was Micah's birthday, where he often challenges me to go really fancy on flavors and less on decorating.  His only request was that I incorporated something "crunchy."  So Snickers cupcakes became the end result: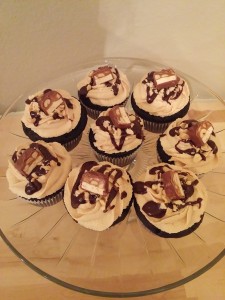 They were absolutely delicious- a dark chocolate cupcake filled with peanut-caramel filling, and topped with peanut butter marshmallow buttercream, chocolate ganache, and Snickers bars.  Although I couldn't take credit for creating the recipe (you can find it here– thanks again Sugarhero!), baking something so fantastically delicious and fancy really was a boost to my confidence as well.
Next level to the baking therapy: make something pretty. My brother had given me a set of Wilton Gumpaste Flower cutters at Christmas which had been mocking me every time I went to the pantry for flour, taunting me for having never broken them in.  Mom's birthday and Aunt Jacki's retirement/birthday party gave me the perfect excuse to silence the gumpaste cutters cries for usefulness. What, your cooking tools don't have personalities and talk to you? Weird.
For this occasion, I tried my hand at Gerbera daisies: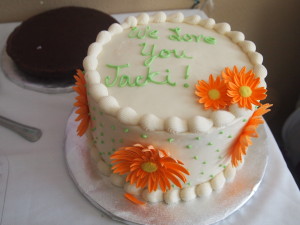 The piping handwriting is not my best, but otherwise, the cake turned out nicely (also, see that chocolate cake in the back? It's my flourless chocolate cake for the gluten-free folks)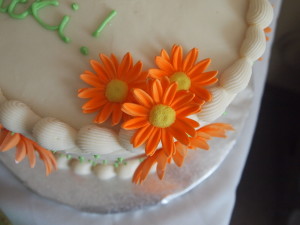 And for mom, the dogwood cutters had a go:
Another miss on the piping handwriting, but the dogwoods looked very realistic!
On a mission to prove to myself that I could do it all, I ended up somehow making the previous three cakes in ONE DAY.  And though I held it together and completed the projects, the three-cakes-in-one-day craziness made me begin to wonder if my therapeutic activity was beginning to have the opposite effect on me…
And then the big cake order came in.
It really was the first time that I have agreed to do a cake for a perfect stranger. All of my cake projects have been for friends, family or at least acquaintances.  But someone contacted me who had seen my work on Facebook and wanted to order a large two-tier cake for an upcoming birthday party for her boyfriend.  And because I was being the "yes" woman for cake projects (even if I had a small sense I might be over-extending myself), I took on the request.
Unfortunately, after I had already bought the ingredients and had starting baking a cake that would feed 60 people, the person backed out on their order at the last minute.  Lesson learned: charge a deposit.
Feeling frustrated that I had wasted time and energy (and that I wasn't going to get to create something cool on my day off), I put a shout-out on Facebook to see if I could get any takers for a possible Mother's Day cake.  And that's how I ended up popping out these two cakes on Mother's Day weekend: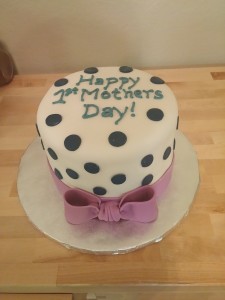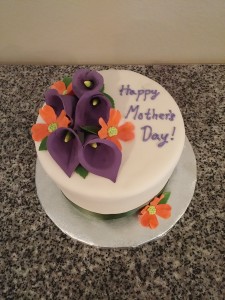 Finally, some decent letter piping!  Practice makes perfect…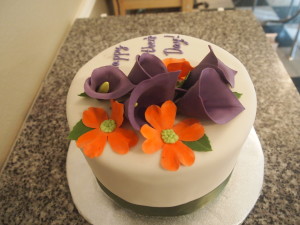 Purple Calla Lillies  and Orange Dogwood. My friend, Emily, loved it
By the end of this baking frenzy, to be honest, I was completely exhausted.  Almost every free moment I had outside of work had been consumed for the past 6 weeks by my side cake projects. My family had been understanding, trying to stay out of my way as I covered the entire kitchen in a layer of buttercream and powdered sugar dust.  But I realized my little hobby to help cope with life's disappointments can sometimes become it's own little monster.  After the sugary dust settled, I noticed I had a husband who might like some attention from time to time, and reassured my children that I did indeed love them more than baked goods.  I think they mostly believed me.
I don't feel guilty about doing something I enjoy, necessarily.  But I did realize that using anything to avoid the pain in life can be destructive- instead of pressing into my vulnerable places and facing the stuff I am going through head on, it's easier to skip off to the kitchen. It's my way of sticking my fingers in my ears and saying, "la-la-la, I can't hear you world!" And avoiding real life works for a while…that is, until I finish the project.  The cake is done, but the pain is still clinging there.  So what I really need to seek is a delicate place many search for and never find…I believe it's called balance.
I have felt God reaching out to me lately, calling me to step into some true vulnerability and to go deeper in my relationship with Him.  It's exciting, and scary, and to be honest, I've been running away.   But I know that the only way I will ever be able to find true balance in life is through engaging in His truth.  Sometimes it means setting down the rolling pin, and sitting on the porch to absorb the beauty of the day, counting every blessing I can think of.  Other times, it's dusting off the "Good Book" and being blown away by His word.
And if I'm able to find my value through Christ and not in what I have accomplished, my hobby doesn't have to be an escape, but rather an act of worship. This means sometimes an encounter with God can be attained by baking a coconut layer cake for a good friend.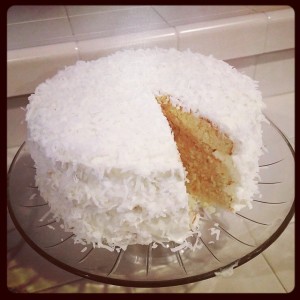 It's all about your perspective, really.
For now, I think I would rather give up the cake therapy and live a life full of truth.  Cake will just happen to be a by-product of a life well-lived.