One of the most frequent conversation starters I've been getting lately has been, "So how's the packing going?"
To which, I kind of giggle…then laugh a little manically…and then hang my head in a bit of shame.  Because, if I'm honest, I believe I have actually packed one box so far, and I didn't even tape it shut or label it.  And yes, I am moving in 12 days.
The thing is, there has been a lot of life to wrap up around here- we know moving is the best choice for our family right now, but I tend to be lingering on the life I'm leaving in Colorado.  I've been finding time to say just one more goodbye, visit one last place, or do one last baking project.  It's been some hardcore procrastination. I'm almost a little proud of how well I'm pretending like moving 1,300 miles away isn't that big of a deal.  After all, last time I moved across the country, I packed up my house in a week while trying (painfully) to nurse a tongue-tied 7 day old infant.  So packing in two weeks when I have less belongings (goodbye baby paraphernalia!) and more self-sufficient children- piece of cake.
But to make up for my guilt of cramming all of the last minute moving details into 12 crazy days, I thought I could make myself feel better by sharing all the beautiful ways I have been procrastinating.
First, there was the wedding cake: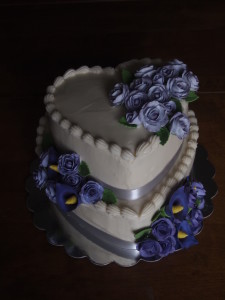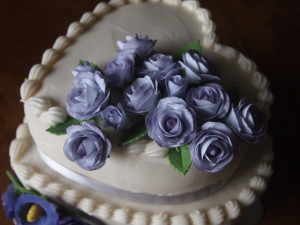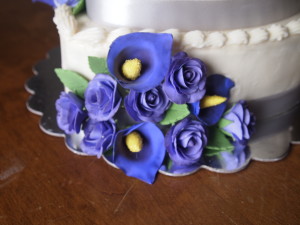 I had committed to making this cake several months ago, before I had any idea I would be moving. Considering it was a relatively small project, especially for a wedding cake, I decided to follow through with it.  It was my second wedding cake, which I really swore I would never attempt when I started decorating cakes.  The pressure just seemed so intense with wedding cakes- if I ruined someone's birthday cake, well, it was a bummer birthday.  But if you ruin someone's wedding cake, you've created a bad memory carried into infamy.
But luckily, my wedding cake experience has been very pleasant so far.  I haven't really made many realistic gumpaste flowers until now, but I loved working on these roses while watching Kill Bill and Friday Night Lights after the girls had gone to bed- I actually found it very relaxing.  The only point in which I got a little nutty over this cake was the night before when the icing wasn't smoothing the way I wanted it to. I'm used to working with fondant which has such a seamless, smooth effect and regular icing can make me a little insane because I just can't get the same results. Thankfully my dear friend, Mikah Neff, was around to knock some sense and confidence in me.  After a good night's sleep, I was able to smooth it adequately.   I spent the rest of the day with a soaring feeling of accomplishment for making something so pretty…and with no boxes or packing tape in sight.
Then there were the cupcakes….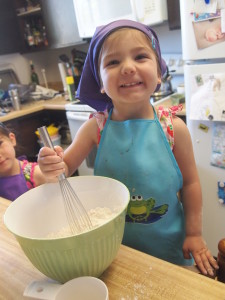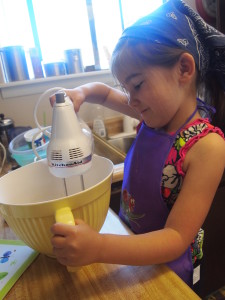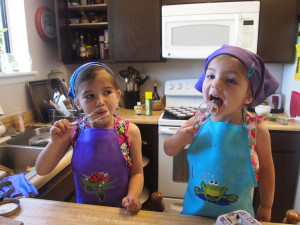 Penny is out of school, so I'm back to having two kids at home to wrangle.  We had decided to make cupcakes for her Going Away party and she wanted to be involved in every step of the project.  I was happy to oblige.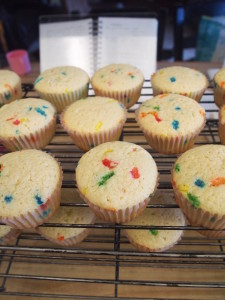 By the way, did you know you can make your own funfetti cake mix from scratch by just throwing sprinkles into your batter?!  Who knew- I thought funfetti was a food that could only be created by magical elves or some other mythical baking creature.  I've included the recipe for these scrumptious vanilla cupcakes at the end of this post!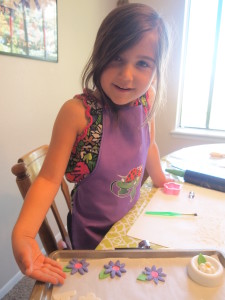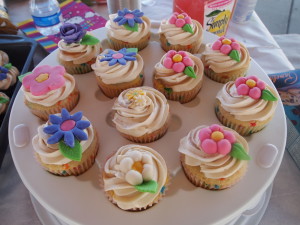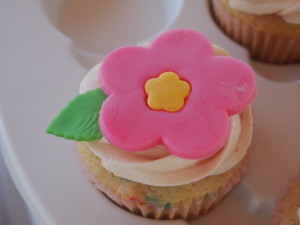 Penny was especially thrilled to help make the fondant flowers.  In fact, she designed many of the flowers herself (the pink one above was completely her creation).  We spent several warm afternoons playing with fondant and dreaming about opening a mother/daughter bakery together someday.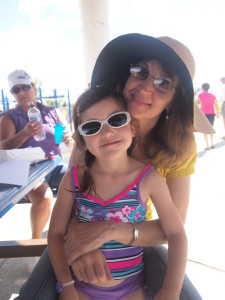 Penny saying goodbye to one her favorite teachers, Mrs. Francis, at her Going-Away party
The Going-Away party was a huge success, as were Penny's cupcakes. This little celebration made up for the fact that none of her school friends will be able to attend her birthday party this summer. But wonderful friends await us in the Northwest too…
Next baking distraction: cupcakes for Warren Village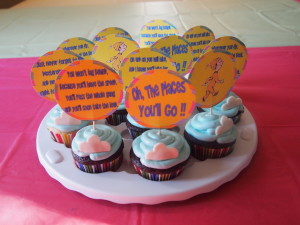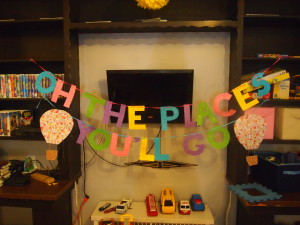 I just wouldn't be able to end my time at Warren Village without sharing a little bit more cake love, so I made cupcakes for our honoring evening in the theme of Dr. Seuss's, "Oh the Places You'll Go."  This was a fun little party to celebrate the accomplishments of the women in our program and to also say goodbye.  Unfortunately, I am also leaving at the same time as two interns and the case manager, so the residents will be going through a lot of staff transition during the next few weeks. They are amazing ladies and are handling it all with grace and understanding- I'm walking away with everyone of them on my heart.
Next stage of procrastination: saying goodbye to beautiful people and places.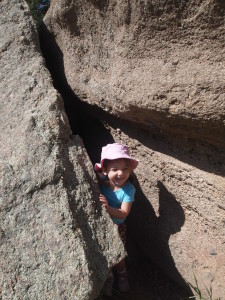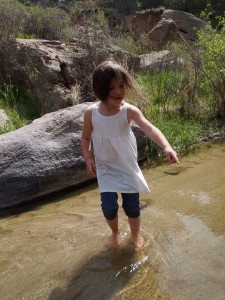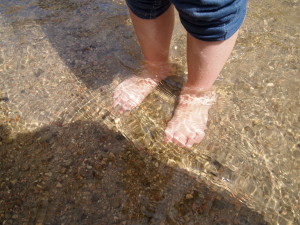 Saying hello and goodbye to a favorite hiking spot in Castlewood Canyon Park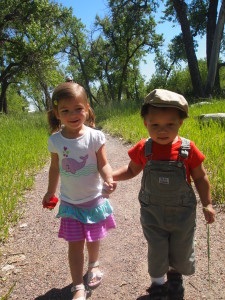 Ramona strolling with her darling friend, Peyton, at Star K Ranch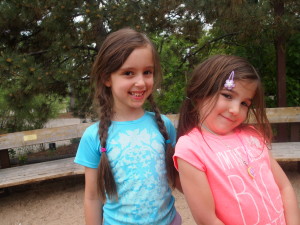 Emiliana and Oliver- our very first friends we made in Colorado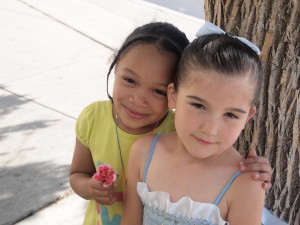 Penny with Meridyth, that magical first best friend she will never forget
We also threw in two trips to the zoo, two trips to the aquarium, a trip to the hot springs in Idaho Falls, a ballet recital, a daytrip to Boulder to the Celestial Seasonings Tea factory and a weekend visit from Micah's parents.  I told you folks, I'm not faking on putting off packing- I'm making this procrastination thing into something to be admired.
But now we've slipped into June…and the reality is setting in that I have less than two weeks to pack all of my personal belongings up and flip my life on it's head, yet again.  But for now, I think I just might go eat a cupcake…and then I'll get on with it, I promise.
I swore my awesome Bible study ladies I would give them the recipe for my vanilla cupcakes- good high elevation recipes are coveted in Denver and it would be cruel not to share (I'd be happy to share the sea level recipe if anyone is interested too).  Love you all SO MUCH!
Heather's Vanilla Cupcakes (Adjusted for Denver's elevation)
2 ½ + 2TB Flour
½ tsp baking powder
¼ tsp baking soda
½ tsp salt
3 large eggs
2 cups minus 2TB granulated sugar
1 cup vegetable oil
2 tsp vanilla
1 cup sour cream
2TB milk or buttermilk
(Add 2TB colored sprinkles if you want funfetti!)
1)      Preheat oven to 350 degrees F.  Line cupcake pans with paper liners. Sift flour, baking powder, soda and salt into a bowl.
2)      In a separate mixing bowl on low speed, beat the eggs and sugar until thick; scrape the sides and bottom of the bowl when done.  Add in oil and vanilla until well-blended.  Mix in the sour cream and milk. Add dry ingredient mixture and blend until smooth.
3)  Pour into cupcake pans (filling 3/4 full) and bake 12-15 minutes or until a wooden toothpick comes out clean.
Makes about 20 cupcakes (could also be made into a cake)
"My evil genius Procrastination has whispered me to tarry 'til a more convenient season." 
-Mary Todd Lincoln