I can hardly believe it's already been over a month since we rolled out of Denver, cars stuffed to the brim with our belongings, two kids, two cats and an adventurous gerbil.  I'd love to say moving was a breeze, but honestly, we all know moving a few miles away can be a harrowing experience, and moving across the country is no less of a nightmare.  The only way I made it through those last two grueling days of packing and cleaning was with the pure love, patience and help of some incredible friends.  Mark, Amy and Josh played a nightmarish life-size version of Tetris in our much-too-small moving truck, in the middle of an epic Colorado thunderstorm.  My darling friend Mikah Neff cleaned out my pantry, helped me scrub every inch of my house, all with a thrown-out back until close to midnight.  And Mark and Cheryl babysat our kids for two days and helped us deal with all of our stuff that didn't make it onto said much-too-small moving truck.  It's these types of friends that make me realize how wealthy we truly are, even when we may feel poor in spirit.  They also made it that much more difficult to say goodbye.
But whether or not we were ready to leave, the time had come and so we set out across 4 states to head for home.  Due to some serious over-planning from Pinterest, the girls never lacked for entertainment in the car.  We did road trip scavenger hunts, simple crafts, prizes at 100 mile marks, and of course lots of movies.  The girls were shockingly well-behaved and flexible, which was a relief considering my nerves were about as raw as a meat market. Seriously, if I had heard a single, "Are we there yet?", I think they may have met the She-Hulk in person.  But our move was an adventure for them, and I had them believing we were on some sort of crazy exciting vacation.  On our first day, when we realized we would not be reaching our hotel until about 1am, we pulled over in a truck stop and I told the girls we were going to have a super fun sleepover in the car.  They were like: "YAY!"  We brushed their teeth in the truck stop bathroom, changed them into their PJ's and gave them a couple of glow sticks for nightlights.  Yet again, they were like: "YAY!"  After being back on the road for about 10 minutes, they were asleep, never the wiser to the fact that I was experiencing one of the most stressful days of my life.  Fake it till you make it, moms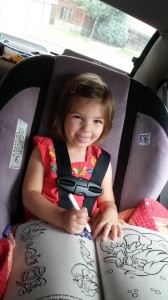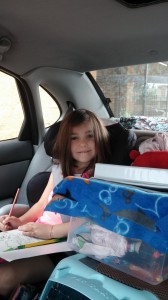 .                                   Ramona and Penny on the "most fun" trip ever!  
We drove through some beautiful scenery: there were the rolling hills in Wyoming and striking rock formations and mountains in Utah.  And then there was Idaho.  Now, don't get me wrong, all you hard-core Idaho fans.  I've been told there are beautiful places to see there.  But as we were getting closer to Oregon on the last half our trip, I was sick of the brown, dull landscape, the crappy truck stops, and the cars with gun racks. I just needed to get-the-heck-outta Idaho.
And then, just when I thought I couldn't stand the lack of pretty any longer, lo and behold, the Columbia River comes into view.  And the rock walls start to raise up on either side, the trees start looking bigger, and after a few hours, we know we have come back to the Columbia River Gorge.  I couldn't stop drinking in the views as the green swelled up all around us. I found myself thinking, "do trees really grow that big?"  It was striking after living in a near-desert environment for so long. The girls noses were practically stuck to the windows as they ooh and ahhed over the gorgeous trees and flowers.  Sometimes it takes going away to realize the splendor we grew up with.
And so we are back in Oregon. The places look much the same (except the trees are bigger), the people are familiar, and even my job is very similar to when I left. In fact, there have been times when I have had to pinch myself to be sure that whole Colorado thing wasn't just a very long, vivid dream. But we've changed and grown so much from our Denver adventure, and I'm glad to be home with a fresh perspective, even if it feels a little strange to be back at times.
The best part of being back is introducing our girls to their beautiful new home.  They were both born in Portland, but now they will be raised here, and I'm on a mission to have them love it just as much as we do.  So almost as soon as we got back, we started exploring.  Penny was fascinated with the term "City of Roses" before we moved back, so I had to take them to the Portland Rose Garden right away. They were completely enchanted.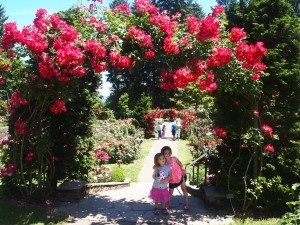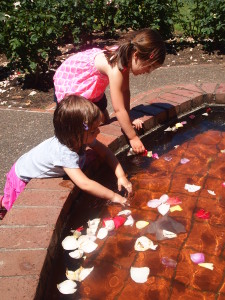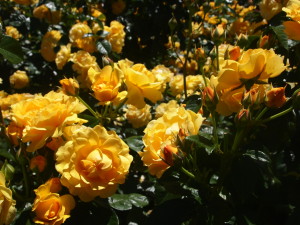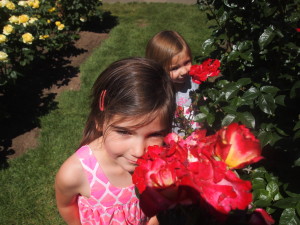 We also reconnected with old friends…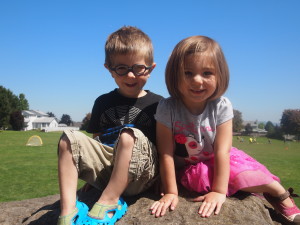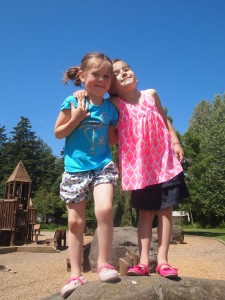 Got friendly with Mt. Hood at Lost Lake…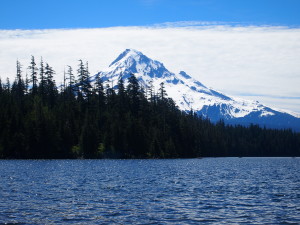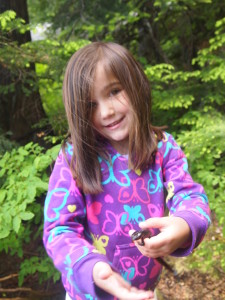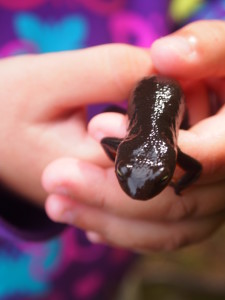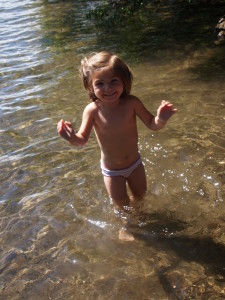 Picked our own fruit right off the tree or bush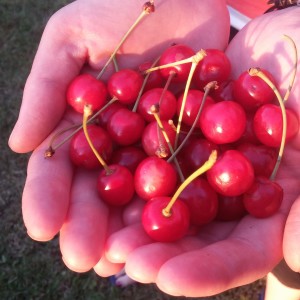 Finally had some decent cheap sushi…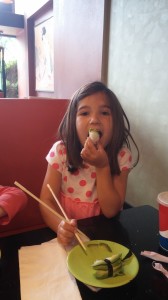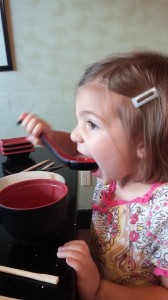 And saw a REAL waterfall. Sorry Colorado, you hold nothing to the water splendor around here…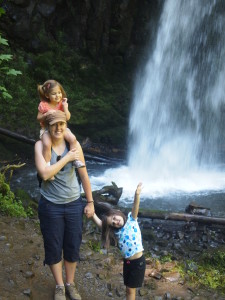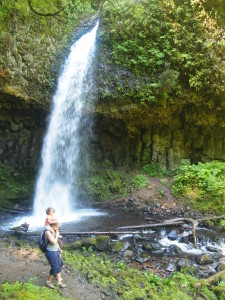 And perhaps one of my favorite parts of being back: sea level baking. No guess work on reducing leavening, adding flour, or decreasing sugar.  I follow a recipe and there's a very good chance the cake won't fall or the cookies won't look like flattened mistakes.  Honestly, it's almost too easy to bake at sea level- it's taken the challenge out of it a bit.  But that doesn't mean I haven't been creating my fair share of bready goodness.
 I'm working full time right now, so I'm definitely holding off on a making a ton of cakes, but I'm more than ready to spend my free time on smaller projects. My first baking attempt was these yummy yeast cinnamon rolls, which turned out nicely, even though I forgot to add the melted butter.
Then there was the blueberry pie for 4th of July (with local berries from the berry stand, of course!)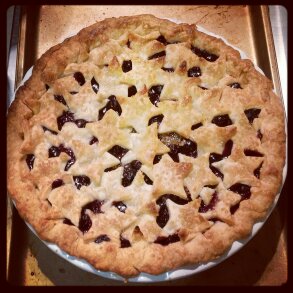 And yet more blueberry baked goods with these muffins. I gasped when these came out of the oven. I haven't seen such a perfect rise on my muffins in years.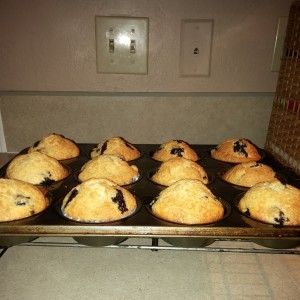 It's not all been berry-picking and roses since we moved back, however.  There's been some real challenges with adjusting to our new house, working full-time at a fairly stressful (yet rewarding) job, and Micah's struggle with his job search.  But we take each day one at a time, continuing to feel the love and prayers of our friends in both Denver and Portland.  We won't be in transition for our whole lives, so I'm comforted to think of this rough patch as just a chapter in our bigger story.
We'll get to where we are going someday.  But for today, we are meant to be here.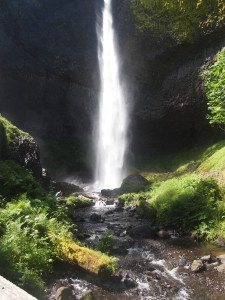 Thanks again to everyone who helped with childcare, moving, cleaning, unloading, and gave me a shoulder to cry on during the past few months.  You know who you are!
Also, stayed tuned for my next post on the girls' magical My Little Pony party 🙂