Cake Day 8: Sunday, April 6th
8:00am:  The day had finally arrived.  I woke up with a feeling of slight anxiety, realizing I had about a million things to accomplish before noon. However, I was also excited to finally be close to the goal- to bless a little girl who had experienced a great deal of turmoil in her short five years of life so far.
Due to confidentiality, I can't share too many details or even include any pictures of her in this post.  But the whole reason I was going through all this effort was to show this little girl she was valued, special, and loved.  Our birthday girl was born to a teen mother and their family had been separated off and on through some difficult circumstances.  But the program at First Step was providing an opportunity for them to get back on their feet, pursue their dreams, and move toward a life of self-sufficiency. As I saw it, her birthday was really just an excuse to celebrate a new chapter of their life together.
But first, there was a cake to finish…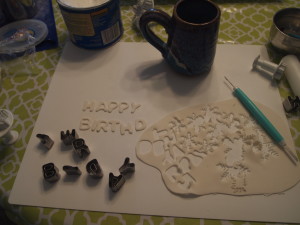 Even though the pressure was on, I was in a much better mood than the previous morning.  I just had a few last touches to finish: putting the lettering on the cakeboard, finishing some trees, flowers and snowflakes, and placing the figurines in the right spots.  After a few hours (barely interrupted as the kids watched a movie in the other room), I arrived at this: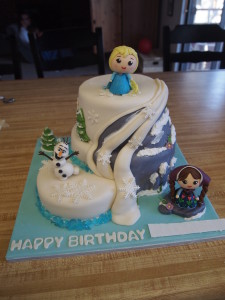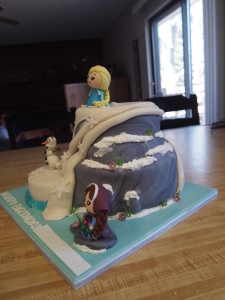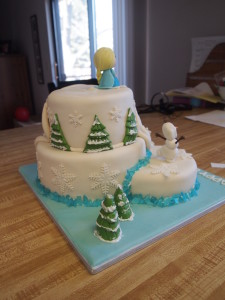 Hee hee, even the back was cool 🙂
Time spent: 3 hours
I decided to wait until I was at the party to construct Elsa's candy ice castle, worried the structure would come crashing down in transport.  Feeling good about the cake, I turned my attention to all the other party details.  I don't have many pictures of this process- honestly, the last hour before a party I spin around the house like a Tasmanian devil and I'm lucky if I remember to pack my camera in the midst of everything.  But the last hour involved drawing a pin-the-nose-on-Olaf game (Penny cut out all the carrot noses for me), finishing party favors (thanks Mom!), gathering craft supplies, and making sure Penny had been fed and dressed.  Penny usually accompanies me to the parties and always insists in dressing in her fanciest dress- I'm lucky if I'm wearing makeup and clothes without buttercream smears.  We balance each other out, I suppose.
Then we jumped in the car, with just a quick stop at the store for punch and to fill up our 4-foot Olaf balloon with helium (my one Amazon-bought splurge).  Penny was delighted with Olaf and talked to him like he was her new best friend.  However, we had a little scare when a gust of wind ripped Olaf's string from the base of the balloon and he nearly flew away in the parking lot. Luckily, a scrubby tree caught him and we were able to recover him from his escape attempt.  Crisis averted.
On our 30 minute drive to First Step, it began to rain heavily.  This may seem odd, but I've NEVER had to deliver a cake when it was raining.  We get 300+ days of sunshine in Denver and it hadn't occurred to me that rain could be an issue.  Just a few raindrops could dissolve my pretty cake into a smeary mess and I didn't have an umbrella in the car or any other way to protect the cake while moving it into the house. I began to daydream about my rainy hometown of Portland and what a problem cake delivery would be if I ever moved back.  Thankfully, the rain dissipated and the sun came out (as usual).  Another crisis averted.
Once all the supplies and cake were safely unloaded, I started decorating the dining room with my mostly homemade decorations. I was joined by my wonderful volunteers, Laura and Sarah a few minutes later and they jumped in to cover the room with streamers and sparkly snowflakes.
I also took a moment to finish the crowning touch of the cake: the ice castle:
I loved the way it turned out, and I could barely believe I had actually pulled the whole thing off- finally!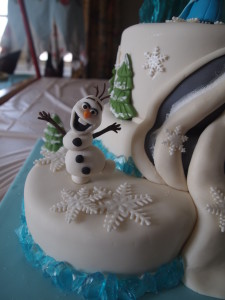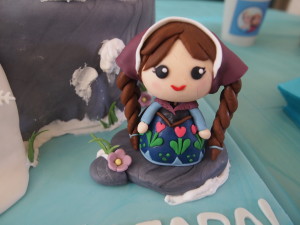 Unfortunately, I had stepped out of the room at the moment when our birthday girl came in and saw everything set up.  My volunteers told me I had missed a precious moment as she literally tiptoed up to her cake, eyes big as saucers, and squealed in delight over all the details.  I felt content though, as she continued to run over to her cake all throughout the party- I knew she loved it and that was enough for me.
She also loved her Olaf balloon as much as Penny did.  Penny had never met any of the kids before, but it took about 5 minutes for them to become fast friends: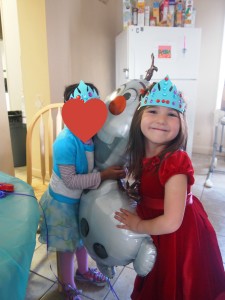 I was really thankful I had brought Penny because as it was, many of the other families were absent and having an extra little girl really made it feel more like a party. I set up the Frozen soundtrack on a laptop and commenced to our party activities.  First, the girls sang along to "Let It Go" as they covered foam crowns with sticker gems I had found on clearance at a craft store.  Next, I mixed equal parts of epson salt with hot water so they could create "ice paintings." As they dried, the salt crystallized, giving it an icy effect: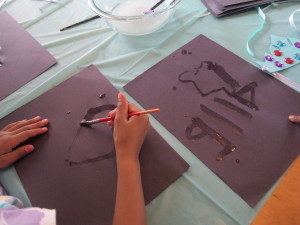 Our birthday girl LOVES painting and crafts and we nearly had to tear her away from this activity after 30 minutes to get on with the rest of the party.  However, while they were distracted with their icy paintings, I took her mom down to our birthday closet to pick out a few toys.  Many of our families can't afford birthday gifts for their children, so we keep a small supply in the basement (mostly leftovers from our Christmas toy drive). It's very important that the parent can present these gifts as if they had purchased them- we never tell the child they are from First Step.  Often the parents feel a huge burden of guilt for not being able to provide for their kids and this pain is especially acute around birthdays.  The small act of giving their a child a gift can really help ease this pain.  I was glad to see the smiles from her mom as she chose a dress up set and a doll for her daughter.
Then we did some good ol' fashioned pin-the-tail type game with Olaf.  I almost always do this type of game at my parties- there is a reason it is a birthday party standard.  Kids LOVE this game, it's simple, and it's easy to incorporate into a theme. I've done pin-the-propeller-on-the-airplane, pin-the-bow-on-Minnie-Mouse, etc.  The kids couldn't get enough of pinning the nose on Olaf.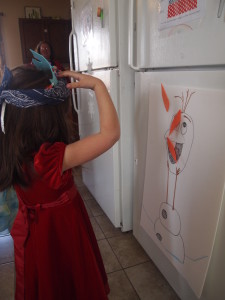 The rest of the party unfolded as most birthdays do: presents, cake, and children running around like crazy from a wild sugar rush.  I can't include the pictures of our birthday girl as she blew out her candles, but let me assure you, her smile would have blown you away.  As we sliced up my masterpiece (always bittersweet!) and she devoured her first bite of chocolate, buttercream, and blackberry jam, she was bouncing in her seat with happiness.  She said, "This cake is sooo good.  Wait, no this cake is AWESOME!"
And that made every bit of stress and craziness from the past 8 days totally worth it.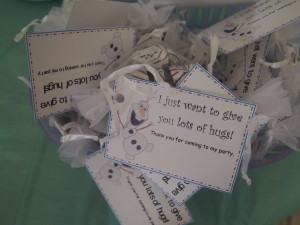 The party was winding down so we said farewell to my stellar volunteers (thanks again Laura and Sarah!) and the birthday girl whizzed around the house handing out my party favors- little bags of Hershey's hugs.  I love puns.
After everything was cleaned up, I began to search for my misplaced daughter whom I found hiding with her new best friends in a homemade blanket fort.  She had behaved very nicely at the party, but barely held back tears as we headed to the car, whimpering pathetically, "I love it here and I want to live here forever."  Penny is constantly seeking better living situations than living at home with us.
As I drove away, I was struck with how fast a 2-hour party can fly by. Considering I had just put 27 hours into making a cake, along with all the shopping and planning for the rest of the party, some people may think I am nuts.  The cake will be eaten, the toys will be eventually discarded, and life will go on as usual.  But hopefully, what won't be forgotten is the feeling of worth and value our birthday girl felt on her 5th birthday.  And though the party is obviously for the child, often the act of throwing a party blesses the parent even more- if our birthday girl forgets this party, it's likely her mother won't.
When I think about making children feel special on their birthdays, I am drawn to a favorite picture book, On the Night You Were Born, by Nancy Tillman.  I think it would be great to start reading this book at the parties to really help the child feel valued and important.  Here's an excerpt:
On the night you were born,
the moon smiled with such wonder
that the stars peeked in to see you 
and the night wind whispered,
"Life will never be the same."
Because there had never been anyone like you…
ever in the world…
Heaven blew every trumpet 
and played every horn 
on the wonderful, marvelous
night you were born.
Living in poverty can make families feel as if life has discarded them and wrecks their self-esteem.  They lose sight (or never realize) that they are a valuable creation- a child of God and cherished and loved unconditionally.  It's my hope and prayer that both mother and child will know they are "fearfully and wonderfully made," no matter what life has told them otherwise.  What better way to communicate this than celebrate the day they were born?
It was a good week…and a great party.
Have you ever had a birthday experience when you truly felt loved and cherished?  
P.S. I can't take complete credit for all the fun party games and activities. If you are planning your own Frozen party anytime soon, you can find all the tutorials here.