The first time I walked into my new home in Denver, I burst into tears.  Mind you, it was late at night and I had just traveled on a plane with a newborn, a three-year-old and a cat.  I was exhausted, all of my belongings were piled in chaos, and postpartum hormones were still wreaking havoc on my emotional stability.  All that aside, as I descended down the dark staircase into our basement apartment, I had a sinking feeling my standard of living was about to have an adjustment.
Here's where we moved: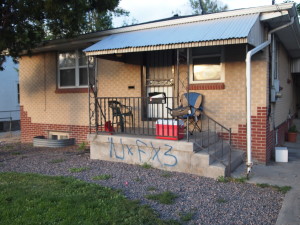 We lived in the basement of this duplex for the first year and a half of our new life in Denver
We knew we had moved to one of the worst areas of the city.  Micah had to start his new job as a math teacher just two weeks after our daughter, Ramona, was born and I had sent him ahead to find us a place to live while I recovered.  Time was tight, as was our budget.  Our previous home had been at a transitional housing program as the managers- we were used to poor areas and people who were rough around the edges.
But now we were alone in a strange city, far away from all the people we loved and the community we were accustomed to.  At times, our living situation was just plain scary.  I would sit late at night as our neighbors screamed at each other with my hand on my phone, not sure if I should risk a confrontation or just talk to them when they were sober (which was rare).
In addition to our sketchy housing situation, there was an overwhelming darkness and oppression in our neighborhood and I felt powerless to change it. Our basement apartment was literally dark as well- though the Colorado sun was shining, our tiny windows didn't offer much daylight.  With it's low cement walls, I often felt like I lived in a bomb shelter.
I found the darkness didn't contain itself to my surroundings- it began to settle on my mind and heart as well.  The first few months, I battled through feelings of isolation, loss of direction, and plain good ol' homesickness. More than a few moments I wondered if we had made the right decision to leave Portland.
I don't want to paint the picture too grim- there were many incredible blessings that carried me through those first rough months in Denver.  Here's a few:
Cultivating a new community of friends: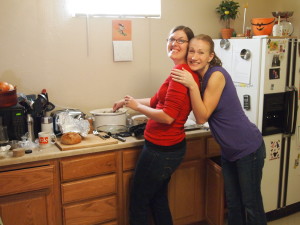 Making our first "orphans" Thanksgiving dinner with the Starrs, our dear friends who transplanted to Denver just a few months prior to us and who became our Colorado family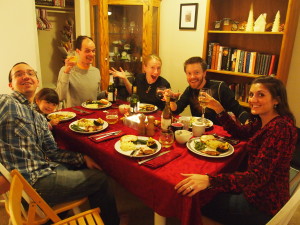 Pre-Christmas dinner with the Starrs and the Lunds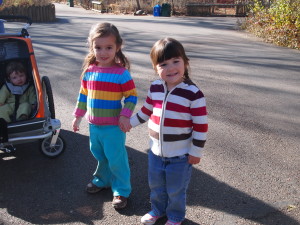 Penny making new friends
Exploring our beautiful new landscape: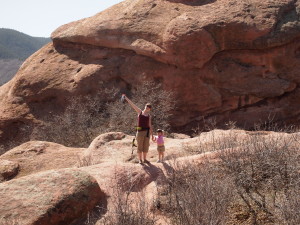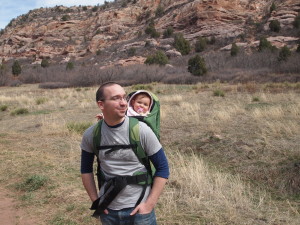 Coyote Song Trail at South Valley Park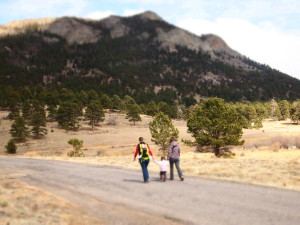 Rocky Mountain National Park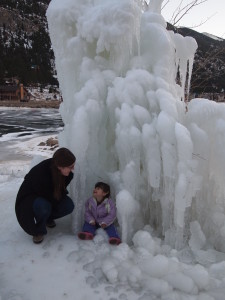 Ice formation in Georgetown, CO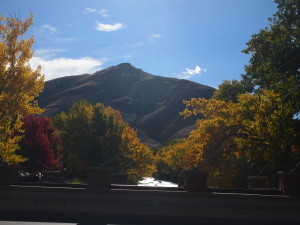 Beautiful Golden, CO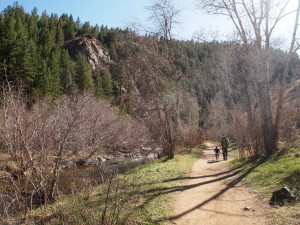 Dayhike at Lair O' the Bear
Visits from family and friends: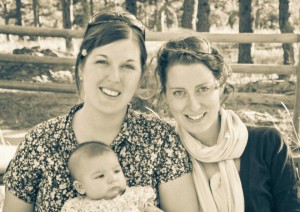 My kindred spirit, Bethany visited for a birthday surprise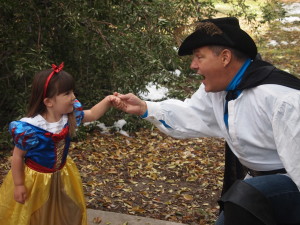 Penny with her Papa
And moments like these: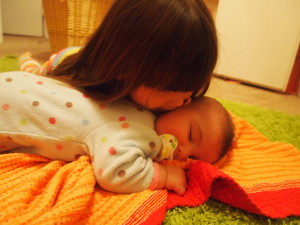 In those first months of transition, I did my best to count my blessings and trust God had opened up this opportunity to our family for a reason.
But adjusting wasn't easy.  Yet no one had ever promised it would be.
Unearthing Buried Treasure
One really cool aspect of our house was we had an enormous backyard.  Mind you, it wasn't fenced and had been basically used as a dump for the neighborhood as long as any of our neighbors could remember, but there was a hidden charm to that 1/3 of an acre.  In return for a spaghetti lunch, my friend Mark helped carry out mounds and mounds of trash, old furniture, and even a dead dog (yes, truly).  We weed whacked, cut back the poor overgrown trees, and turned it into an almost-suitable place for children to play again.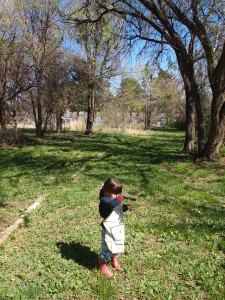 We had the only backyard on our entire block- the other properties were low-income apartment buildings
 After extracting the trash and dead animals, you could imagine my delight when I discovered the evidence of three very old raised gardening beds.  Penny and I headed out during a warm spring day to see if we could maybe turn the old beds into a "bit o' earth" where we could grow flowers or veggies.
We found some worms: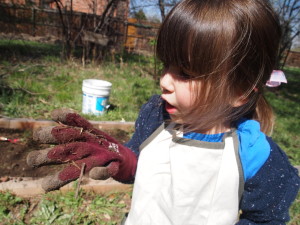 Gave the earth a drink: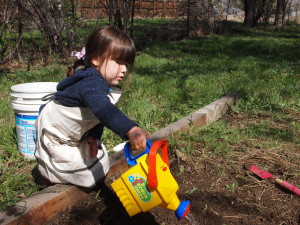 And to our delight and surprise, after carefully picking out dozens of junk food wrappers and countless shards of broken glass, we discovered these little gems: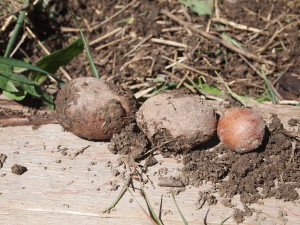 Some time ago, someone had planted little red potatoes in that mess of a backyard.  The discovery was so unexpected, we felt like we had found buried treasure in a pile of rubble. As I fried them up for dinner that night, I felt a kind of nervous excitement and I knew God was at work.  It may sound silly, but it was as if those potatoes were a little sign of hope for me- that amidst the darkness and the struggle, God was going to do a new work in me that was going to be life-changing and surprising. Deliciously surprising as it turned out, because my life-change was going to come in the form of a cake.
So that's what I'm writing this blog for- to dig down in the dirt and share the surprises in life; the hope amongst the despair.  I've found a hidden talent and passion in cake I'm trying to figure out how to use it to help the broken people in my community.  The first step is to invite you all into my story and ask for your prayers and support as I embark into this sticky adventure.  I'd love if you would check out my other pages, subscribe to my posts, and give me feedback.  I'm hoping to share stories about my cake-making escapades, birthdays at homeless shelters, and maybe a recipe or too in the mix.
Just be prepared: it might be a messy ride.
On the way, I'm holding onto this C.S. Lewis quote: "Hardships often prepare ordinary people for an extraordinary destiny."
Have you ever transplanted to a new city and made new discoveries about yourself in the process?  How have hardships in your life molded you into the person you are today?