Cake Day 3: Tuesday, April 1st
No early start on cake projects this morning- with Micah home from work this week, I do have to make sure to pay attention to him once in a while. I don't want my cake obsession to result in spousal neglect.  So we spent the morning running errands together and playing tennis (he won, but just barely!).  The errands were cake related, however as we ran over to the Dollar Store for foamboard (for cake boards), Michael's (for ribbon, food coloring, and luster dust), and Party City (for birthday party decorations).  I left Party City disgusted because every single Frozen party item was sold out, right down to the last balloon.  A quick search on Amazon for Frozen merchandise ($10.50 for 7 PAPER plates!!!) led me to decide homemade party decorations are going to be my only option if I want to stick with the theme.  I actually prefer homemade stuff, but we'll see how much I can get done with the epic cake deadline also looming ominously closer.
Before we knew it, the time had come to pick up Penny from school and I hadn't done a single thing on the cake.
"You may delay, but time will not." -Benjamin Franklin
3:00pm: I knew I had exactly one hour to squeeze in a quick cake step before I had to leave for a volunteer banquet at work.  It was cake board action time: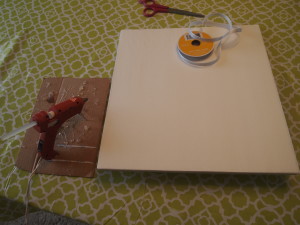 First, I marked my dimensions with a yard stick and cut out two pieces of foam board with an exacto knife.  I need a big board for this cake, so I made it rectangular.  Then I hot glued the two pieces together and glued a sparkling silver ribbon around the edge.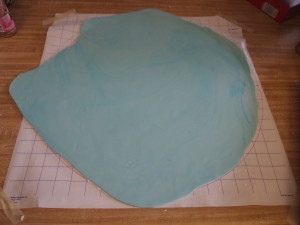 Next, I colored about 2lbs of fondant sky blue, stopping before the color was entirely incorporated to give it a marbled, icy look.  I rolled out the fondant to about 1/4″ thick.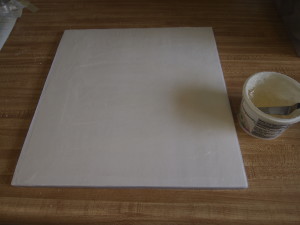 To make the fondant stick, I spread a thin layer of uncolored piping gel with an offset spatula onto the prepared foamboard.
.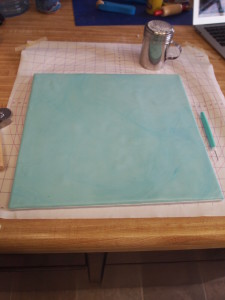 Finally, I carefully laid the fondant on the foam board and cut away the access fondant with a small knife.  This board has a few bubbles in it, but I think they will be entirely covered by cake anyway, so I'm ok with it not being perfect.
Time Spent: 1 hour
Feeling good about having finished one small project, I changed out of my powder-sugar dusted yoga pants and slipped into a cute purple cocktail dress.  Then off we sped to the SIE Film Center for the volunteer reception for Warren Village.
This is kinda embarrassing, but I was honored as the volunteer of the year for First Step, even though I am technically an employee.  I do all the birthday parties completely separate from my paid position though, so I'm actually a volunteer too. I didn't really want any recognition, but the gesture was sweet. I'm so blessed to be in a season of life where I have time to volunteer where my passions are and to work with such incredible people.  Here I am with my awesome co-workers, Amy and Angie: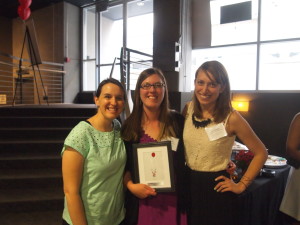 Love you, ladies!
Afterwards, Micah and I grabbed a leisurely dinner at The Three Lions, a British soccer pub a few blocks away from the film center.  To my delight, I commenced to beating him at our favorite board game, Ascension, for the first time ever.   It made up a little bit for losing at tennis earlier in the day.
10:00pm:  I was sleepy, battling heartburn, and really ready to head to my cozy bed, but I also wasn't satisfied with having only completed one cake step.  Feeling a little more confident in candy-making, I decided I had just enough energy to make another batch of blue ice candy before I went to bed.
Watching a candy thermometer rise is very much like watching a kettle of water boil. It seems to take forever, especially when you are sleepy and feeling a tad impatient.  I got a little bored waiting so I started looking at Pinterest for free Frozen decor printouts, and suddenly my thermometer was reading over 300F, and I was totally freaking out.  I threw in the flavoring and color and quickly poured the sugar/corn syrup/water mixture onto my greased pan, crossing my fingers that I hadn't just wasted precious sleep time to experience another candy making failure.
Luckily, no harm, no foul.  Turns out the recipe is pretty forgiving, and I got the same happy, blue ice-like results as my last attempt.  Also, I tried manipulating the sugar while it was still pliable and came up with some cones, spirals, and towers which should work great for Elsa's ice castle: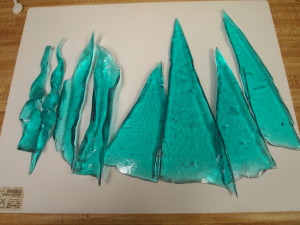 Then off to bed, glad to have accomplished one more small step towards Frozen cake awesomeness.
Time Spent: 45 minutes
Cake Day 4: April 2nd, 2014
Kid free day!  We have the incredible blessing of having live-in childcare help from their loving and wonderful Grandma Kiki and Grandbear (thanks Mom and Dad!).  I know, I'm completely spoiled- when we first moved to Denver, Micah and I went months at a time without getting a break from the kids together.  But now we are in a co-living situation with my parents and it surprisingly works beautifully for everyone.  We mutually help each other out in lots of different ways and the kids get to spend lots of time with their grandparents.  And the best bonus for us…free, more-than-willing childcare whenever my parents are available.  Truly, it's a charmed life.
Anyway, Micah and I spent our date day at Matthews/Winters Park, which borders Red Rocks. We take the kids on lots of short hikes, but we used our child-free advantage to climb something with a little more elevation gain.  It was a bit cold and overcast (we have snow coming in tonight- normal for April in Colorado), but the weather held out for us and we still got a nice view: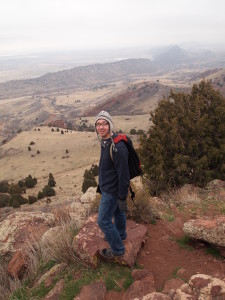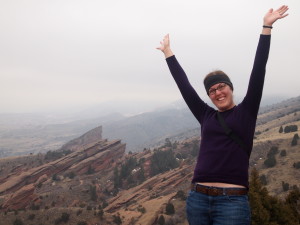 That's Red Rocks amphitheater in the background. I swear, one of these days I'm just going to suck up the high ticket cost and go to a concert there.  It's supposed to be one of the best concert venues in the country.  Someday…
But back to cake….
Time: 8:30pm
I had a goal to finish another figurine tonight, so I decided to work on Olaf, the adorable snowman from the movie.  I was excited to try a tutorial I found on Pinterest where Olaf looks like he is standing on one leg.  I usually stick to figurines who are stumpy or are sitting on their bottoms, but I thought I would challenge myself this time.
Here's the happy snowman: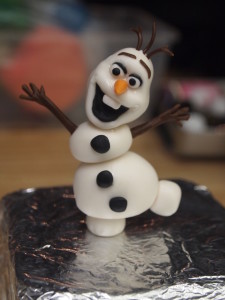 "Hi everyone! I'm Olaf and I like warm hugs!"
I was so excited and pleased when he came out so well, that I thought I would show Micah the song Olaf sings about summer to celebrate (he hasn't seen the movie yet).  I just ended up really, really annoying Micah…which was pretty humorous for me.  What's not to love about Olaf?!
Guess I'll have to wait for the girls to wake up in the morning to get someone to sing along with me to Olaf's summer song.
Time Spent: 1 hour and 15 minutes (wow, way quicker than Anna!)
Total time spent so far: 10 hours
Tomorrow, let us commence the actual baking of the cake…