Cake Day 5: Thursday, April 3rd
7:00am: One thing I really love about Denver are the freak days of snow.  They come in fast, dump a beautiful layer of white fluffiness, and melt off in a day or so.  This is what I woke up to this morning: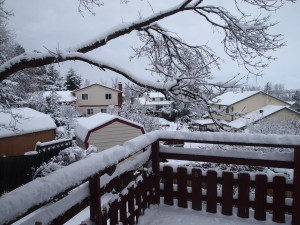 Nothing in the world will put me in the mood to bake like a snowy day.  So I took this sight as a good omen for a cozy day of cake baking.  I know, you all just want to come over to my house now, drink hot cocoa, and bake delicious desserts with me.  Who wouldn't want to spend a day like that?
Before I could start whipping up my cake batter, Ramona's speech therapist, Anne, was due to come over for her weekly appointment.  Ramona was barely talking at her second birthday (she hardly said "Mama"), and though I wasn't super concerned about it, the services are free and they come to my house, so why not give her a little advantage?  Anne loves Cake Boss and she actually bought a birthday cake from me for her daughter (Check out my Strawberry Shortcake Cake).  Half the time I'm up to my elbows in buttercream when she comes over, but today, I decided to stay out of the kitchen.  I couldn't resist starting a party-related project though, so while Ramona played speech games, I started making a 3D snowflake for a party decoration.
It turned out like this: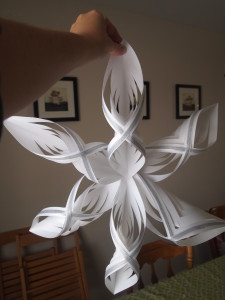 This was my second attempt because I made the first one out of copy paper and it didn't have enough structure so I tried it again with cardstock.  It looks complicated but it's actually simple to make, though I ended up spending most of my morning messing around with paper, scissors, and hot glue instead of cake batter. You can find great instructions here.
1:30pm:  Sometimes I absolutely cannot believe how fast Penny's school day flies by, but by the time I finished the snowflakes, worked out, and ate lunch, my cozy snowy day was literally melting away.  Luckily Ramona's naptime arrived and I was finally able to roll up my sleeves and get down to the real task at hand: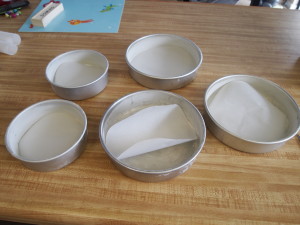 Greasing, flouring, and lining my pans with parchment paper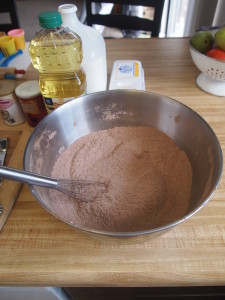 Sifting my dry ingredients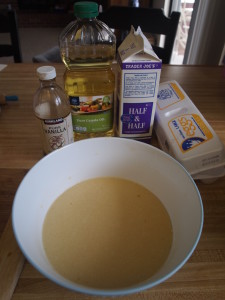 Mixing the wet stuff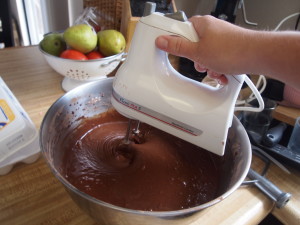 And mixing the two friends together into sweet happiness
My chocolate cake recipe is really very simple, but was not found without a LOT of failures.  I think I must have tried out at least 10 chocolate cake recipes before I found "The One."  Most of my troubles were with cakes falling because of the high elevation factor or being too dry.  But after months of frustration, I was surprised that instead of coming from a fancy cake book or food blog, my dream chocolate cake recipe comes straight from the Hershey's website.  It has a deep, true, chocolate flavor, is incredibly moist and is nearly as simple as making a cake from a box.  You can find the recipe here, but I've posted my recipe with high elevation adjustments at the bottom of this post.  There, my secret is out (Why do I feel like I just told you I cheated on a test…?).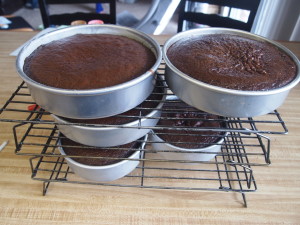 Chocolate tower, yay!
Time Spent: 1.5 hours (including baking time)
While the cakes were cooling, I heard a little rap at the door and my heart skipped a beat because I knew my Amazon package had arrived with these little sweeties: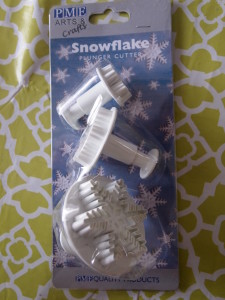 Cake gadgets!  Arriving at my doorstep!  How could this day possibly get any better?
Well, cupcakes couldn't hurt…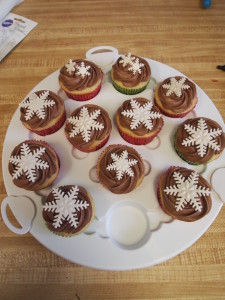 Ok, wait, before you think I am insane for whipping up cupcakes on a whim, this picture should really be called: "Heather cleaning out her freezer."  As usual, I had a freezer stuffed full of leftover baked goods and frosting, leaving very little room for my newly baked cakes.  And I had new fondant toys, so the conclusion was really very logical…for me at least (but I know some of you still think I'm weird).
The fam was very happy to have a tasty dessert after dinner, which was much appreciated since the whole house smelled so chocolatey, it was almost cruel to not have something sweet to offer them (imagine all the sad puppy dog eyes as they look and smell the cake they are not allowed to touch).  I packed up the rest to share with my girlfriends at my Bible study that night.  So though you may think I'm cake obsessed (oh wait, I am…), I was able to make room in my freezer, I got to play with my new fondant cutters, and everyone got a treat. Win-win-win!
9:00pm: After sharing the cupcakes, tea, and some much needed encouragement with my friends, I ran to the store on my way home to grab the last of my party supplies (cups, plates, streamers, etc.).  Cake Day #5, done.
Cake Day 6: Friday, April 4th
7:00am:  When your child enters Kindergarten, there are all sorts of rites of passage as a parent that you naturally step into, such as "Surviving the emotional rollercoaster of the first day of your baby growing up for real," or "Helping your child deal with name calling," or my personal favorite, "Rushing to school because your child has thrown up all over themselves in class."  These are the moments that make you feel like you are entering a new phase of parenting, as having a child in school forces you to pull out all sorts of wisdom, patience, and, faking-like-you-know-how-to-handle-these-situations.
This morning, I was about to step into another grade-school-parent rite of passage: chaperoning a school field trip.
I was actually super excited to be a part of Penny's field trip- I love having time to get to know her classmates and teachers better.  Penny goes to a wonderful school and I've really enjoyed all the staff and she's had a good experience so far.  So I was pretty happy to have the opportunity to help out during their field trip to see the play, "Lyle the Crocodile" at the Arvada Center.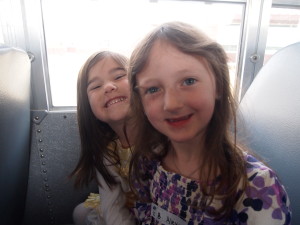 Penny and her friend, Alexis on the bus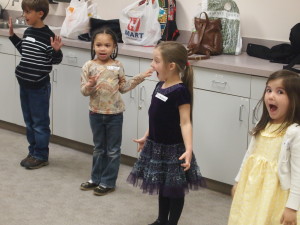 The kids warming up their faces during their theater workshop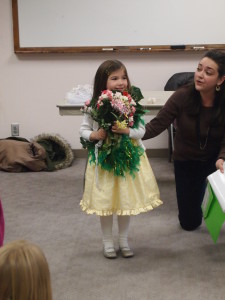 Penny as "The Singing Bush" during her class impromptu performance of Hansel and Gretel
After a great theater workshop and lunch, I had the pleasure of sitting by Penny while she watched her very first play.  I was a happy mama.
Other than a kid throwing up on the bus during our ride home, it was a great day.  I know how that parent felt when they got the call….
Now, onto the cake!
8:30pm: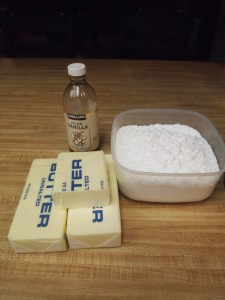 What you see above are the ingredients for my vanilla buttercream frosting.  So simple, yet again.  And yes, that is, ahem…2 1/2lbs of butter (10 sticks).  Hence, this picture explains why I must work out every day in order to be able to shop at a regular clothing store.
Just to be fair, this is a double batch of frosting, my cake is going to be huge, and I am bound to have leftovers.  But why should I justify?  We are talking about cake here, people, not bunny food!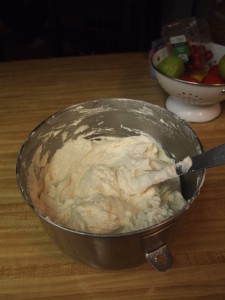 And no, you can't gain weight just by looking at this picture

Time Spent: 15 minutes
9:00pm:  After making a cup of tea, I knew it was time to get down to business and make my last figurine: Elsa, the ice queen.  I used the same chibi-type tutorial as I did with Anna, making sure they were going to be about the same size.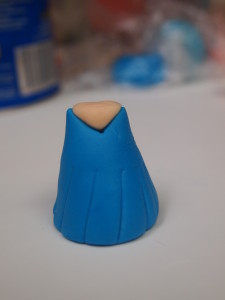 Elsa's dress/torso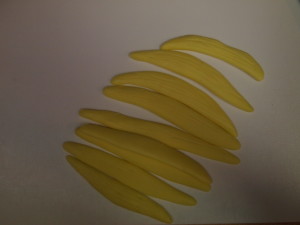 Forming Elsa's hair (most time consuming part- they kind of look like little bananas, right?)
Micah jumped in at this point and helped by making rice krispie treats that I was going to carve into a mountain side on the top of the cake.  Of course, he'll always help as long as he gets to eat half the pan.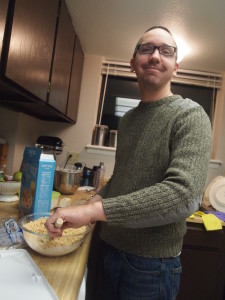 After two and half episodes of Friday Night Lights, Elsa was looking pretty good: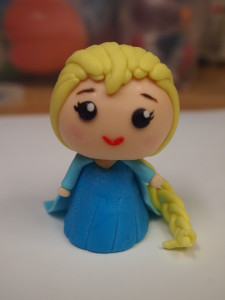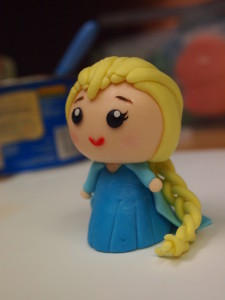 Hair is tricky, so I if I tried this figurine again, I might make some changes, but overall I was pretty happy.  Also, there was no way I was going to have time for a second attempt.  Blurry eyed, I stumbled off to bed, knowing the real challenge was coming the next morning as I was going to be putting everything together.  But sweet dreams for now…
Time Spent: 2 1/2 hours
Total time spent so far: 14.25 hours (not including time I have spent on other non-cake related party prep)
To be continued…
Hershey's Deep Dark Chocolate Cake (with high elevation adjustments)
Just a funny note here: when I went to bake the cake on Thursday, I couldn't find my paper copy of this recipe and so I went online to find the original.  Apparently Hershey has removed the high elevation adjustments from it's website so I was totally freaking out.  Luckily I found my paper copy and so I am posting this for my fellow struggling high elevation baking friends and also for myself, just in case there is a fire 😉
Ingredients:
1 3/4 cups sugar
1 3/4 cups flour + 2TB
3/4 cup cocoa powder (I do use Hershey's- not dutch processed)
1 1/4 tsp baking powder
1 1/4 tsp baking soda
1 tsp salt
2 eggs
1 cup milk +2TB
1/2 cup vegetable oil
2tsp vanilla extract
1 cup boiling water
Directions:
1.) Heat oven to 350F (Hershey's recommends increasing the temp to 375F for high elevation, but I don't find it necessary).  Grease, flour and line two 9-inch round pans or one 13x9x2 inch baking pan with parchment paper.  *I find this is a very large recipe and I often split it up into three 9 or 8 inch pans so I can have more layers for yummy fillings.
2.) Stir together sugar, flour, cocoa, baking powder, baking soda and salt in large bowl. Add eggs, milk, oil, and vanilla; beat on medium speed of electric mixer for 2 minutes.  Stir in boiling water (batter will be thin).  Pour batter into prepared pans.  *I usually use my stand mixer, but my picture shows me using a hand mixer because I doubled the recipe and it won't fit in the bowl. Either will work just fine.
3.) Bake 30-35 minutes for round pans, 35-40 minutes for rectangle pan or until a wooden pick inserted in the center comes out clean.  Cool 10 minutes; remove from pans to wire racks.
DEVOUR!  Or, you know, frost it all pretty or something.