Cake Day 7: Saturday, April 5th
8:00am: It's all been good fun up to this point.  Yes, working on the cake has consumed the majority of my free time, but by breaking the project into smaller, manageable steps I have still been able to take care of my family and juggle other commitments.  Through the process I have stayed in a pretty positive mood, and even experienced moments of creative satisfaction, warm fuzzies, and whimsy. But on Cake Day #7, those positive feelings were starting to wane.
I woke up in a foul mood.  I wasn't just a little grumpy- I was waiting-in-line-at-the-DMV-while-doing-my-taxes grumpy.  Perhaps I hadn't gotten enough sleep after pulling a late night while making Elsa.  Maybe it was the pressure of knowing how much work I had to do in the next 24 hours to complete the cake and be ready for the party.  Whatever the reason, no amount of pancakes, tea, or playful teasing from Micah could snap me out of it.  So it was in this lovely state of mind that I began the final (and biggest, most time consuming, and high pressure) part of creating the Frozen cake.
At least the first step was yummy: leveling the chocolate cakes (which I had stored tightly wrapped in the freezer), filling the layers with seedless blackberry preserves, and crumb coating them with vanilla buttercream.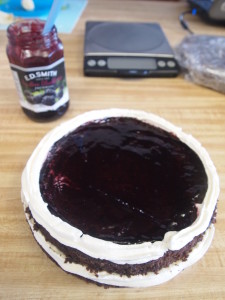 While I worked on this part, I think my sour mood must have rubbed off on the girls.  They usually get along pretty well, but for some reason their morning play was filled with constant bickering, crying, and stomping off to their rooms.  The drama reached a crescendo when Ramona said to Penny, "You're a mean girl," (a big sentence for our late-talker) which sent Penny into tearful hysterics.  When my patience is that thin, my best response is to yell loudly, "If this doesn't stop, I am going to lose my mind!"  Not very helpful, I know, but it helps remind my family that my fragile mental health is at stake.  And it makes me feel better. So there.
Luckily, I knew the madness wouldn't last much longer as it was time for Penny's ballet lesson. As Micah ushered her to the car (screaming the whole way), I took a deep breath and looked forward to a little peace from sibling rivalry for at least an hour.  I set Ramona up with her beloved playdough and started covering my cakes with fondant.
Having peace restored, I turned on some soothing music and started to get into a bit of a groove.  I even decided to slip Ramona a little taste of frosting because she was being so sweet: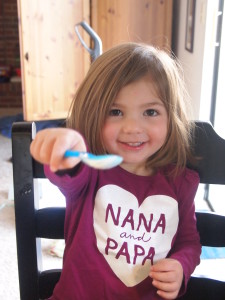 But the peace only lasted for a few minutes before chaos began to rein again. First of all, in an attempt to make more space in the fridge for the cake, I took out the meat drawer and set it on the stove while I juggled condiments and milk jugs.  Unfortunately, I had forgotten that the stove top was still hot (we have a flat ceramic stovetop) and I managed to do this to the unsuspecting drawer: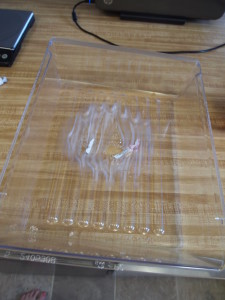 If you can't tell from the picture, I melted a huge hole in the bottom of the drawer.  Surprisingly, I stayed pretty calm and actually started laughing (well, maybe a little maniacally).  Who needed that drawer anyway…right?  The poor cheese and deli meats no longer had a home, but it really wasn't the end of the world.
Deep breath…
I believe at this point I had covered a few of my cakes with white fondant- (the sequence of events really have become a blur to me), but suddenly Ramona's happy mood began to deteriorate for no apparent reason.  I should submit this photo to reasonsmysoniscrying.com (a hilarious blog, you should check it out).  Here is what my caption would be: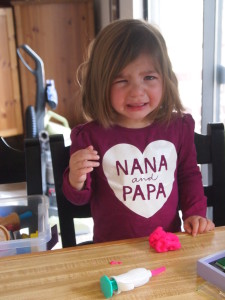 "I squeezed her playdough frosting the wrong way."
I am still not really sure what set her off, but it did have something to do with the way I was touching her playdough.  Whatever the reason, she was totally throwing a fit and I was done listening to screaming.  The moment had arrived for a good ol' fashioned time out, so the playdough was whisked away and she was sent to her room.  Unfortunately, time out apparently had collided with potty time as well.  After her customary 2-minutes of screaming, I was greeted by a red-faced toddler standing in a puddle of pee.
It was now after 12:00pm and I was really starting to fear my threats of losing my mind were going to become a reality.  That's why when Micah walked back in the door I greeted him wild-eyed, gripped him by his shoulders and said through gritted teeth: "You. Must. Make. The. Children. Go. Away." I think I must have looked a little bit frightening, so he assured me he could take the kids on an outing for the afternoon as soon as they had eaten lunch.  Good man.
Before we ate lunch I wanted to get to a good stopping point however, so I finished putting in supports and stacked my newly-covered cakes: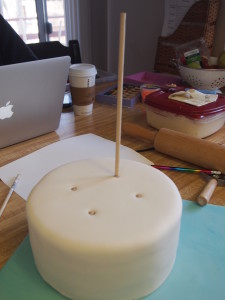 Placing wooden dowel supports in the bottom cake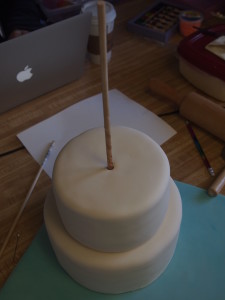 Staking a dowel through the whole cake so it will be stable for transporting to the party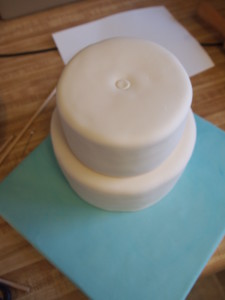 The cakes nicely stacked and the dowel hole covered with a small piece of fondant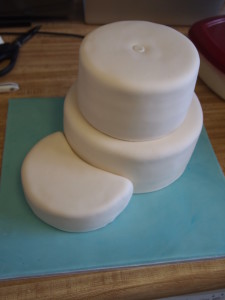 A nice clean canvas ready to go!
Time Spent: 5 hours (off and on due to the chaos of the morning)
1:00pm:  Thankfully, after a bite to eat, everyone's mood was greatly improved and Micah left with the girls for a nice long walk to the grocery store. Having the house finally to myself, I could almost physically feel my blood pressure recede to somewhat normal levels again and I whipped together the last recipe I would need in order to start decorating: royal icing.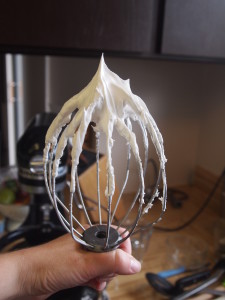 Nice stiff peaks- perfect for a sugary glue
There.  Now every single part of the cake was FINALLY ready to go.  It's usually at this point in the cake creating process that I have two conflicting feelings.  Once I have my cakes stacked and ready to decorate, I am thrilled because now the really fun part is about to begin- it's when I get to see the creation I have been planning, sketching, and dreaming about come to life.
But at the same time, I'm usually extremely exhausted and burned out too.
If you've followed any of the previous posts, you can appreciate how much work and time I have put into prepping all the different elements of the cake (about 19 hours at this point).  I begin to daydream of such things as store-bought fondant (just for a moment though because it is gross), industrial-sized kitchens, and possibilities of what I might create if I hadn't had to make everything myself from scratch.  I queue up Cake Boss on Netfilx as my background noise where I continue to fantasize about working in a bakery where I have baked cakes, loads of pre-colored fondant, and sculptors to make my cake ideas come to life.
But back to reality.  I try to just be happy that I've made it to the decorating point with no major disasters and delve into "my cake zone."  This is when all other necessities of life come to a screeching halt- dishes pile up in the sink, children parent themselves, and eating and drinking become non-essential.  Hours mean nothing as they slip by in a blink while I attempt to manipulate sugar into something it never knew it could be.  Honestly, "the zone" is a little weird and I'm sure it drives my family nuts because I viciously ignore them.  But otherwise, this sucker will NEVER get done.
And so the decorating begins…
This is a picture of my attempt in making a rock mountain peak to go on the top tier of the cake.  I carved a shape out of rice krispie treats and marbled some grey fondant for a rock-type affect.  Initially, it seemed like a good plan.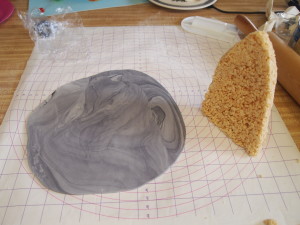 However, after playing around for a while, I realized the mountain peak idea was going to be trickier than it seemed in concept.  First of all, the cereal treats were not very sturdy and the weight of the fondant caused it droop forward.  I also couldn't figure out a good way to connect the mountain to the cake without it falling off in transport.  Eventually, I scrapped the mountain peak, fearing it would end in udder disaster.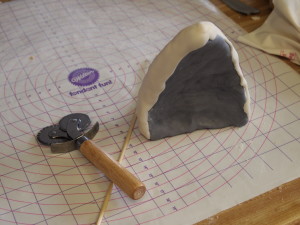 I moved on to making the rock face on the side of the tiered cake: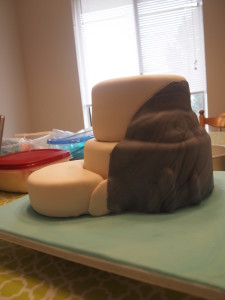 Then I started creating a snow drift sweeping down the side of the mountain: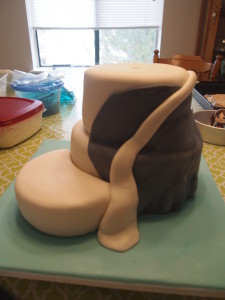 More snow drifts and tufts of grass appear: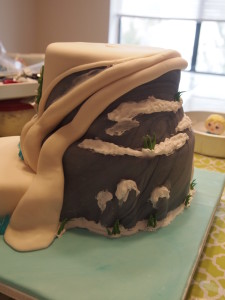 Now the cake is starting to come to life and I am thrilled to get to put on shards of my blue ice candy as a border. A forest also starts to emerge on the other side of the cake: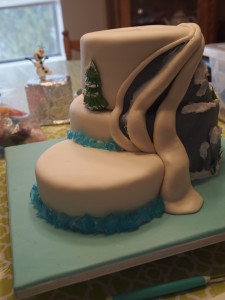 By this time, Micah and the kids had returned and Penny was just dying to help out.  She has become fairly skilled at rolling out fondant so I gave her a little project: cutting out snowflakes with my new cutters.  She did a great job and I even used a handful of her snowflakes on the cake (sometimes her creations get subtly swapped out…shhhh.)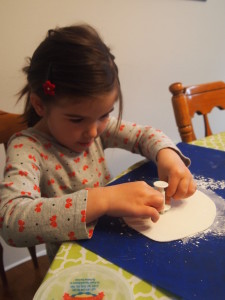 Suddenly, I realized that the entire afternoon was gone and we were pressing into the evening.  After almost 5 hours straight of staring at the cake, I knew I was reaching my limits and was going to need a break.  The idea of making dinner seemed about as appealing to me as someone sticking anchovies in my ears, but thankfully my dad had volunteered to make his special ramen soup (he adds lots of veggies, shrimp, chicken, and chili sauce, yum!). Co-living is the best.
Time Spent: 5 hours
In the meantime, I had been texting with my friend Molly and found out it was her boyfriend, Kevin's birthday.  I could have known that information sooner since she had sent me a message at 8:00am…but I was a wee bit distracted, wasn't I?  Molly and Kevin are regulars on our pub trivia team and they wanted to celebrate Kevin's birthday with us at the Royal Hilltop Tavern.  Micah was dying for some of my attention and I needed a break- so onward to pub trivia!
But it was Kevin's birthday…and even 30-somethings need birthday love…so why not make him a cake?
Honestly, I probably wouldn't have said yes to making a cake with such short notice, but I had room temperature buttercream, a chocolate cake in my freezer, and all my cake tools handy.  I knew I could whip up a simple cake in about 30 minutes.  Here's what I came up with: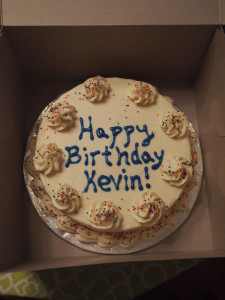 The best part of my day was seeing the happy look on Kevin's face while he thoroughly enjoyed his huge slice of chocolate cake.  In fact, the whole trivia team loved it, but I slipped my piece to the waitress because I just couldn't bear to have another gram of sugar enter my body.  Sometimes there can be too much of a good thing…especially if you are eating it all day long.  I left the pub a few minutes early with the great ambition of decorating a little more before bed, but once I saw the cake again, I knew I still needed a break.  Instead, I made a Frozen birthday banner (really just updating a fairy banner I had already) and cut out some templates for some birthday crowns.  Then I crawled into bed and slept as if I were dead.
Total time spent so far: Approx. 24 hours
Next post: Cake completion and party day! At last!
Side note: Thank you so much to Charissa Burns of Teal Owl Designs for my cute new logo!  You're the best!