We just recently endured what I like to call "birthday marathon week" in the Wiese household.  For reasons I still don't fully understand, my children have their birthdays a mere 5 days apart.  And though it might be easier to just skip one of their birthdays (come on, you don't really need a birthday every year…), I don't think that's really going to fly in reality.  And so the week of the girls' birthdays becomes quite the extravaganza.  We're tripping over steamers and balloons, the kitchen is covered in frosting and sprinkles, and cake and ice cream is literally just falling into our mouths for a solid 7 days straight.  It's a rough life.
There are some benefits of having close birthdays, however.  Sibling jealousy stays pretty minimal because both receive gifts within days of each other; no one has a birthday close to Christmas; and to my delight, my girls still don't mind sharing a birthday party.  We get the whole thing done in one big shebang.  It's worth the birthday hangover, (which is what it feels like after eating that much cake and staying up until un-godly hours hot-gluing Pinterest projects).
The girls are required to come up with a mutually agreed upon theme and this year they had the brilliant idea to do a nature party.  Penny has been really enthusiastic about hiking and bug catching lately and Ramona loves little woodland animals so it was the perfect compromise.  We also recently moved to a new house with a rustic woodsy backyard, complete with towering cedars, a little creek, and trails connecting to a beautiful public green space that spans several acres.  We are in the suburbs, but we've got our own little piece of untamed land for the kids to explore.  Couldn't ask for a better place for a woodland nature party.
Of course, as soon as the theme is decided, I'm thinking cake…
This year I was determined to NOT be totally stressed out making figurines the night before.  Also, I wanted a bunch of different little woodland friends on the cake, so I knew I would have to start early.    Here's a little photo tutorial of how I made the owl: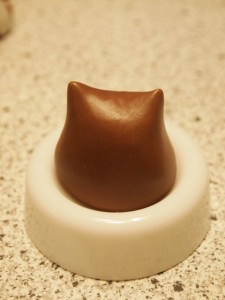 Shaping of the owl's body (I used these cups to help the bottom stay round)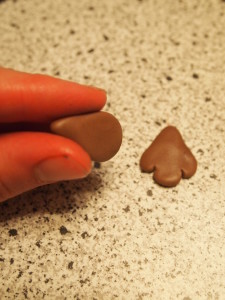 Forming wings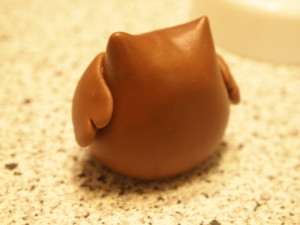 Attach the wings with a little gum glue or water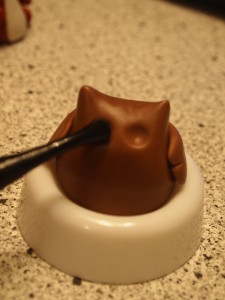 Using a ball tool to get the eyes prepped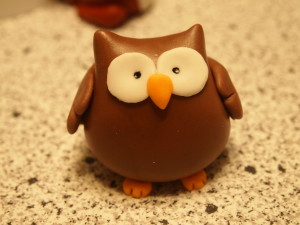 Add some little feet, a beak, and crazy big eyes and your done!
I spent about 3 separate nights working on these figurines, about a week before the party.  The great benefit of doing them ahead of time is they have adequate time to dry.  I've learned it's best to let the body set up for a day or two before adding the head.  Otherwise you risk having a body that looks a bit more squashy or lopsided than desired.  Here's my sweet little decapitated squirrel drying.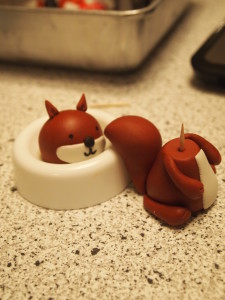 He seems pretty cool with the situation.
For the cake, I just loved the look of stump cakes I had seen, so I did my own version.  I actually think frosting makes a better bark effect than fondant (and is way less time consuming!) and so I made a dark chocolate buttercream for the sides.  I was really excited because I made up my own recipe and it turned out sooo yummy (see the recipe below).  I made a tan fondant circle for the top of the cake.  The bottom tier was vanilla for Penny and the top was chocolate for Ramona, the chocolate purist.  Both were filled with homemade marshmallow cream. Now you know why we ate cake for a week straight. It was CRAZY good.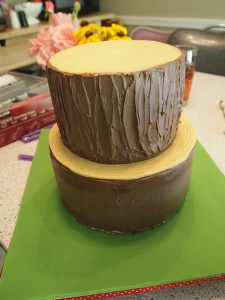 The top layer completed- the bottom layer awaiting a second layer of buttercream and texturing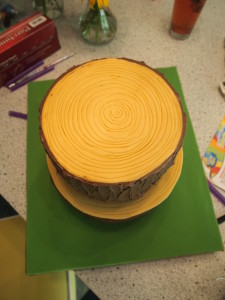 Fondant was perfect for creating a natural looking ring-effect. I just simply took a pointy tool and made rustic looking circles.  Easy. 
As usual, I got really wrapped up in the project so I forgot to take more step-by-step photos, so here is the final product: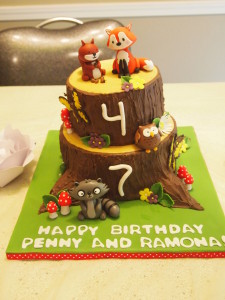 Ta da!  I used left over cupcakes cut in half to make the roots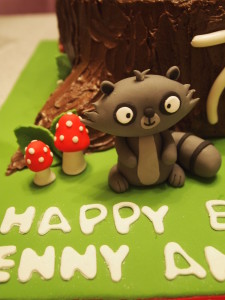 Happy raccoon with cutie pie toadstools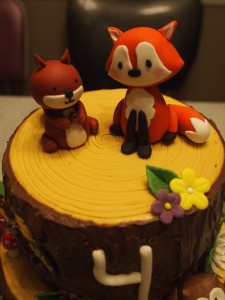 Fox and Squirrel waiting for some birthday fun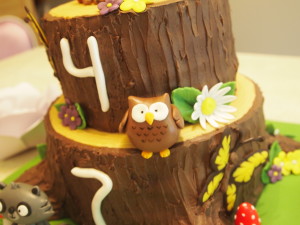 Owl perched for the big event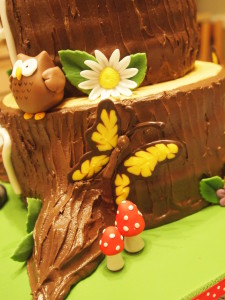 The butterflies are made out of candy melts- a new technique for me but really fun to make!
So, right, there was a point to this post beyond cake.  Something about children and a party…
Let's be honest, if you have a cake that cool, do you really need a party too?  Not really, but I did it anyway.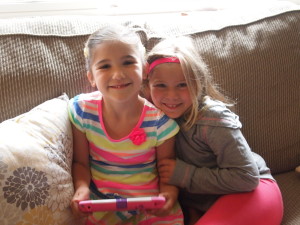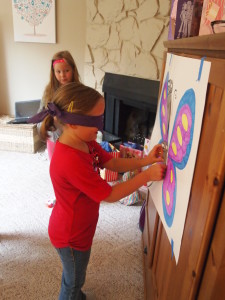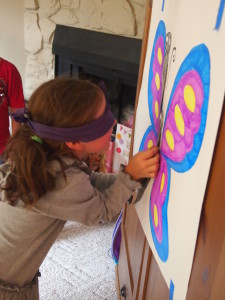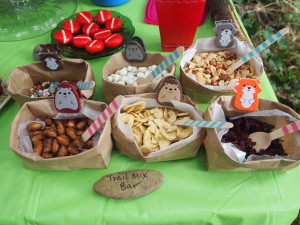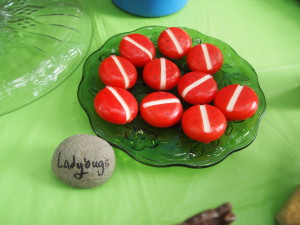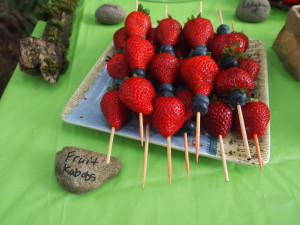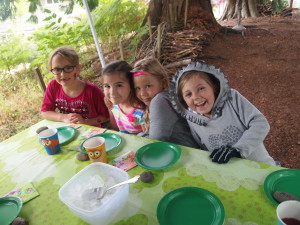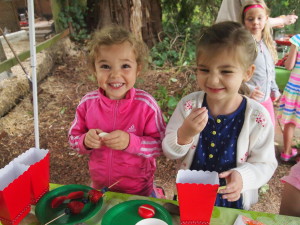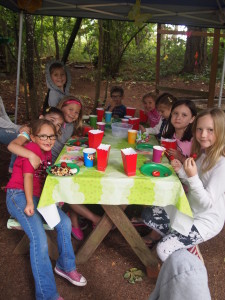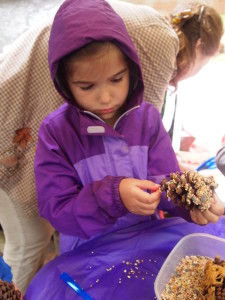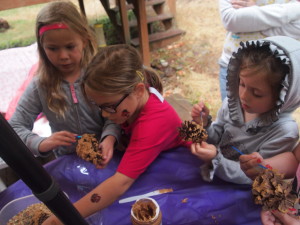 Old school bird feeders made with pinecones, peanut butter and birdseed. Classic.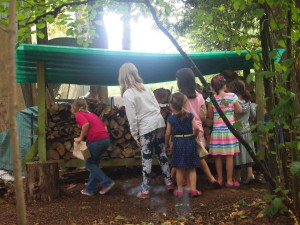 Simple nature scavenger hunt: searching for rocks, leaves, and secret treasure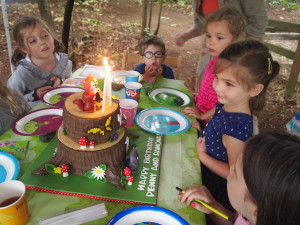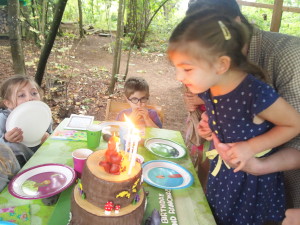 My children may be forced to share a birthday party, but they don't ever have to share their candles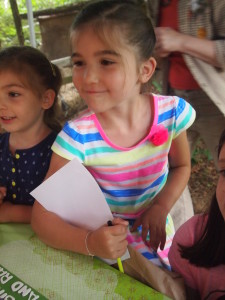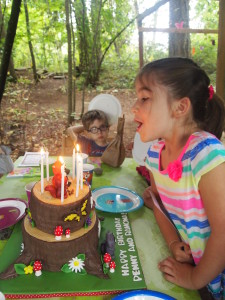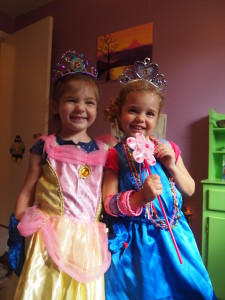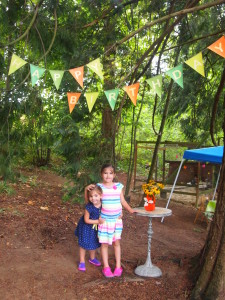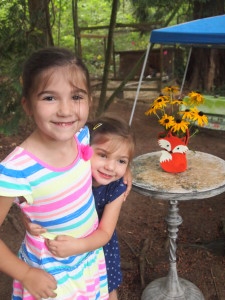 Of course, these pictures don't show me in near freak-out-mode about an hour before the party because it was pouring rain.  I was not thrilled of the prospect of having to entertain 9 children in my small living room for several hours.  Thankfully, the big downpour let up during the afternoon and it was quite pleasant and cool. And after the crazy heat wave of death we have been having, I'm very relieved I didn't have to deal with the cake melting into something resembling Jabba the Hut instead of a tree stump.  Honestly, of all the parties I have thrown for the girls, I think this may have been our favorite yet, even with the drizzle.
And so now I have a spunky 4-year-old, on the brink of preschool and leaving behind all trace of toddlerhood.  And my darling Penny, 7 years old and jumping headfirst into all the fun, wonder, and angst of what 2nd grade can bring.  I'm a lucky mama.  And I promise I'm not tearing up and thinking about how they were just babies and how can they go and get all growed up on me…
Sniff.
Well, there's always frosting to help ease the pain…
Not only was this frosting deliciously chocolaty, the dark cocoa made the perfect shade for bark without needing any food coloring.  When the frosting is cold (if you refrigerate your cake), I swear it has the exact consistency of fudge.
Dark Chocolate Fudge Frosting
2 cups unsalted butter (4 sticks), at room temp
1/2 cup Hershey's Special Dark Chocolate Cocoa Powder, sifted
4 cups powdered sugar
1 TB pure vanilla extract
Pinch salt
1 jar (10 oz) store-bought fudge sauce (I use Trader Joe's)
Cream butter with a mixer until smooth (about 2 min).  Sift in cocoa powder and beat on medium speed until fully incorporated.  Add powdered sugar, 1 cup at a time, waiting to add until each cup is fully absorbed into the butter mixture and beat until smooth.  Add vanilla, salt, and fudge sauce and beat on medium speed until light and fluffy, scraping down the bowl as needed.  You may add milk, cream or water by the tablespoon if a lighter texture is needed.
*This recipe is fully endorsed by Ramona, who truly believes: If it's not chocolate, why bother?